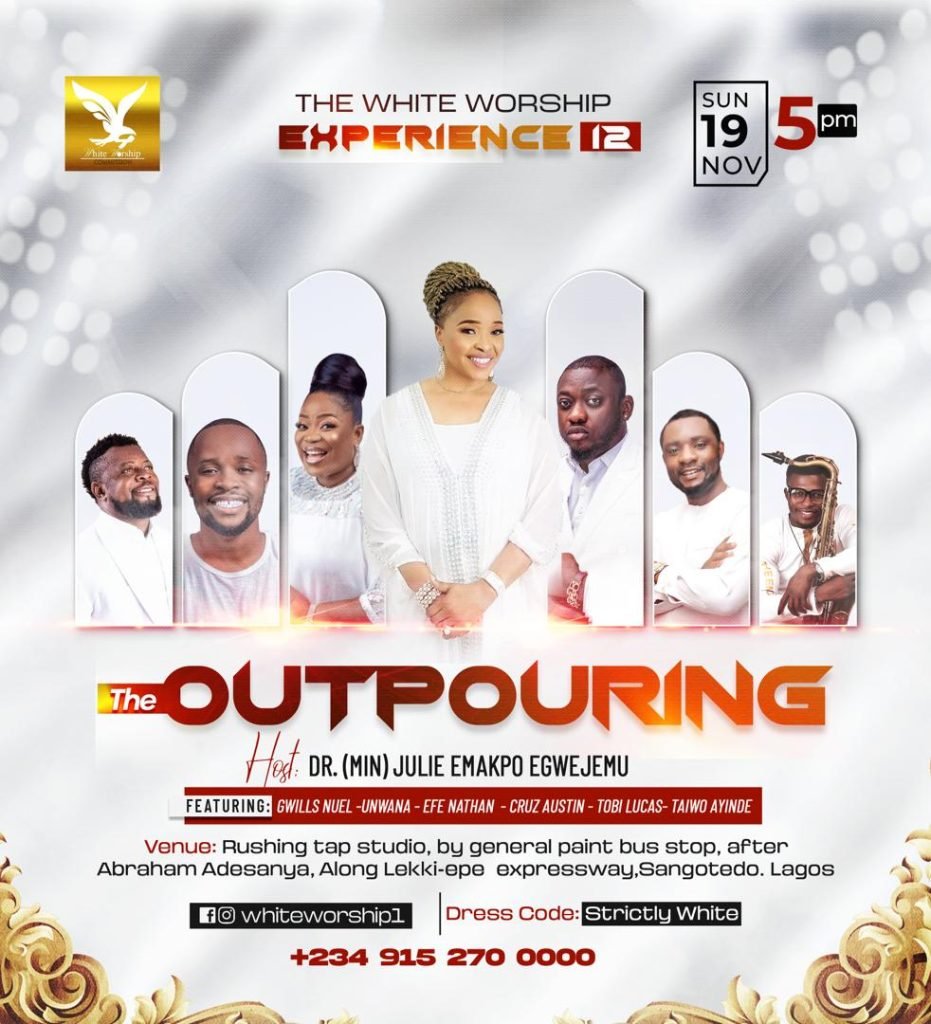 The White Worship Commission Presents: The 12th Edition of The White Worship Experience themed – "The Outpouring".
Ministering live in this year's edition are: Efe Nathan, Cruz Austine, Unwana, Gwills Nuel, Tobi Lucas, Taiwo Ayinde & The White Worship Crew.
"We were part of the glory rain, we have seen the fireworks, we've experienced the encounter, now we await The Outpouring."
"Experience the thrill, the atmosphere, the power & the glory at the 12th annual worship experience of The White Worship Commission."
Event Details:
Date: Sunday, 19th November 2023
Venue: Rushing Tap Studios, by General Paint Bus Stop, Olokonla along Lekki-Epe Expressway, Lagos, Nigeria.
Time: 3PM
Dress Code: White
For enquiries call: 0915270000
The White Worship Commission was birthed in 2012 by founder, president & convener – Julie Emakpo Egwejemu, and since then has grown geometrically from twenty-four (24) people to thousands of worshippers, with the aim to gather people from every nation, kindred, people and tongue, irrespective of denominational affiliation for a time of pure heaven replicated soul lifting worship to God.
Birthed in a place of prayer, boomeranged into a replica of what was experienced in Acts 2:2 on the day of Pentecost in the alter of worship as the presence of the Holy Spirit and the glory was evidently awesome.
Connect
Instagram: @whiteworship1